Lucia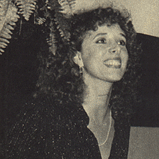 Lucia Newell is an internationally acclaimed jazz singer whose "voice has a warm and pure jazz sound"..."who would shine in any international concert hall."

She is a seasoned recording artist, a diverse international voice-over talent, composer, song writer and lyricist.
Welcome to Lucia's website. Check it out and enjoy your visit, and if you dig it, come back to see and hear the changes!
"Twenty-three year jazz veteran Lucia Newell is one of the most powerful vocalists on the Twin Cities scene."
—Courtney Lewis, Minnesota Monthly, 
"As reader or singer, Lucia Newell is a magnificent interpreter who communicates through intonation, phrasing, faultless diction (in two languages) and a husky contralto... Lucia turns her heart inside out, filling the air with the emptiness and despair the lyrics demand."
—Andrea Canter, JazzPolice.com, 
Book Lucia for your next event!
Lucia's site is under development, come back soon to see more!